ConnectOakland: Mending the Urban Fabric for a More Connected Future
January 7, 2016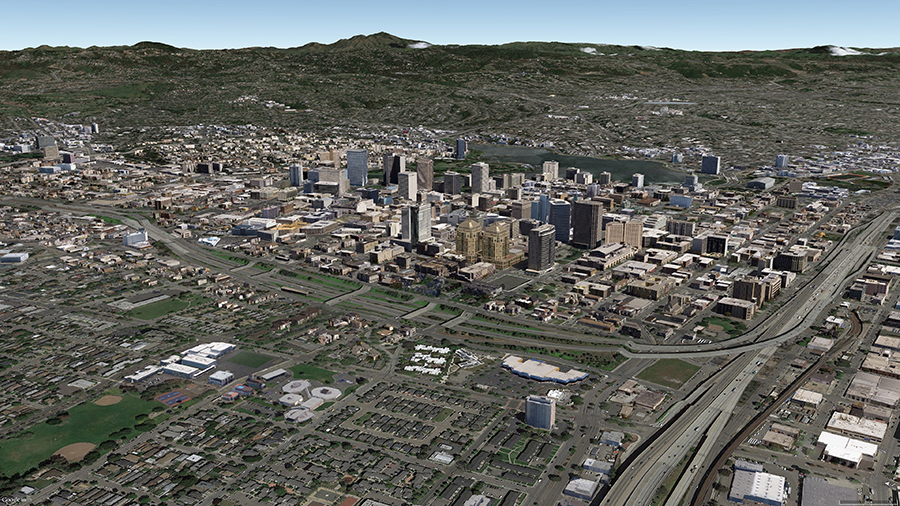 Route I-980
Source: ConnectOakland
The I-980 freeway is at a crossroads — literally and figuratively.
The freeway might have seemed like a good idea at one time, but now many see it as a blight that divides the Oakland community and disconnects neighborhoods from the downtown. It currently acts as a barrier to economic investment for the land in the immediate vicinity as it prevents pedestrians and vehicles from easily moving around the community.

Imagine if there were an alternative to the existing one-mile long, gash dividing West Oakland from Downtown. Imagine if the 42 acres that are occupied by an outdated structure that has divided the community and discouraged investment for decades could be redesigned as a thriving boulevard with 17 acres for new housing and new businesses that reconnect West Oakland to downtown. Could there be a bold strategy that can be implemented over time, but could also begin in phases so that actions can be taken immediately to break down barriers and create opportunities for investment?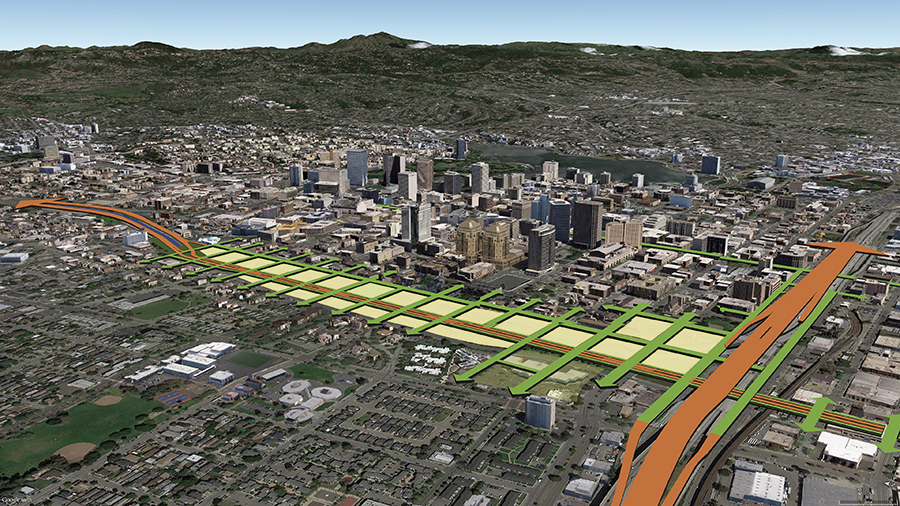 Reconnect Oakland
Source: ConnectOakland
ConnectOakland — an ambitious, grassroots effort led by Christopher Sensenig, Associate and Urban Designer at Van Meter Williams Pollack — would like to transform the I-980 right of way into a "new, vibrant, transit-oriented corridor while also serving as a natural multi-modal connection hub for BART, Caltrain and even High-Speed Rail."
Route I-980 is an underutilized, disruptive piece of infrastructure that should be used for better purposes, says Chris, and there's now a growing consensus that "I-980 is a relic ripe for change."
ConnectOakland
"ConnectOakland is reimagining I-980 as a multi-way boulevard that will continue to move traffic through the city, but also create a new gateway to Oakland, and most importantly, reconnect West Oakland to downtown," said Chris. "The real benefit is that it also would open up 17 net new acres of publicly controlled land for development or public use." The ConnectOakland plan would replace the existing elevated roadway with a boulevard design that would restore the compact, walkable street network that was in place before the freeway was constructed.
I-980 and I-580 were conceived at a time when, even more than today, automobiles ruled how cities were built. A ring of highways completely severed West Oakland from the surrounding City of Oakland and displaced numerous businesses, homes and families. Importantly, it closed off connections — connections that were important to the economic and social fabric of the community. Re-establishing these lost connections is an important goal for the plans promoted by ConnectOakland.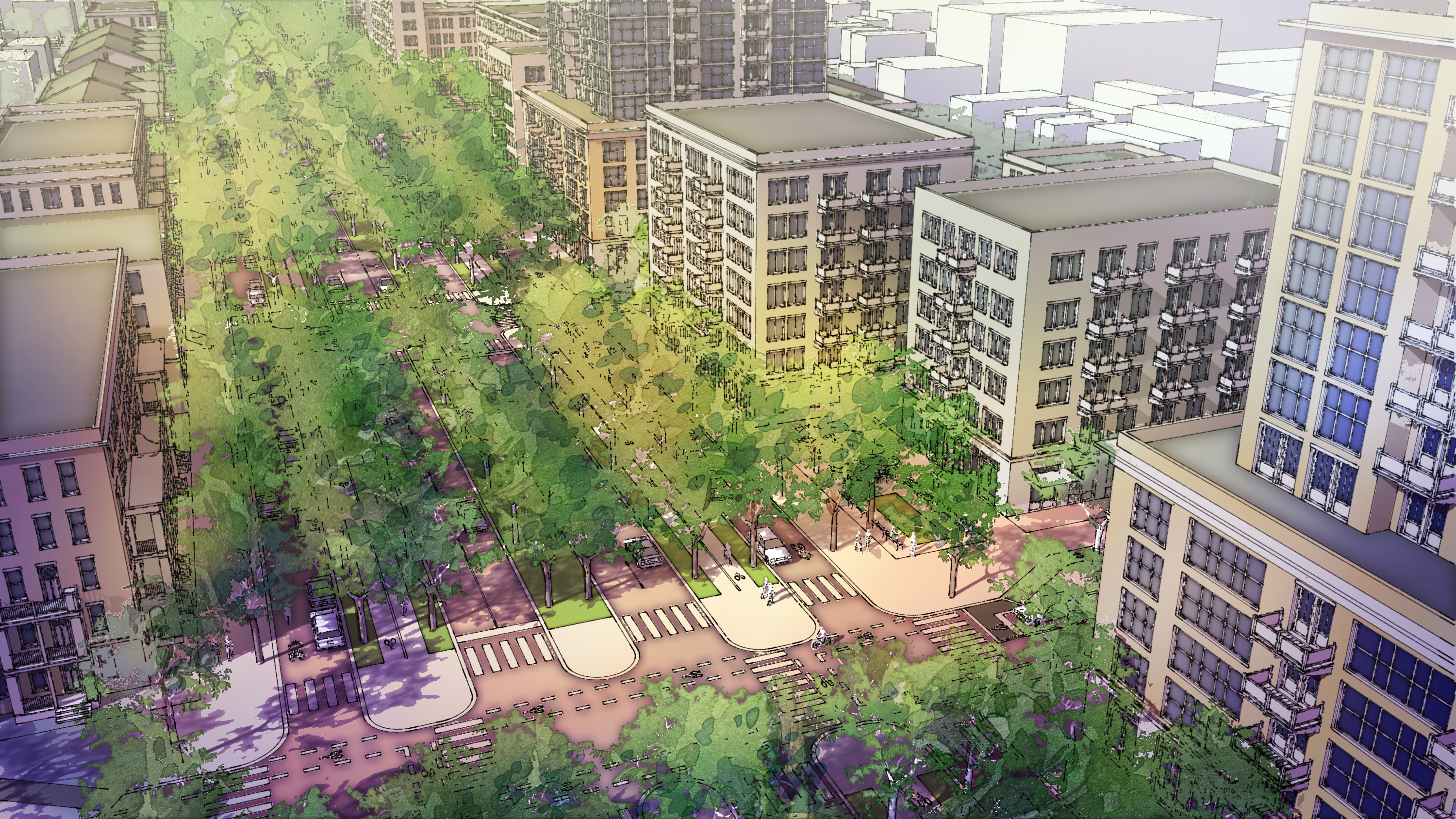 Downtown Oakland Specific Plan
Source: Dover Kohl & Partners
ConnectOakland's vision includes:
Turning I-980 into a boulevard designed for pedestrians, bicyclists and vehicles and a potential multi-modal connection hub for BART, Caltrain, and high-speed rail.
Reconnecting West Oakland to downtown Oakland by re-establishing 12 connecting city streets, reducing walking distances across streets, and connecting the two neighborhoods.
Improving regional connectivity by designing a BART line extension under the new boulevard, continuing from the existing MacArthur station that could connect to a future second trans-bay crossing.
Oakland Mayor Libby Schaaf concurs. "Our I-980 is a cautionary tale — a broken promise of a second crossing that remains a scar on our urban fabric," she said. "In its place, we want livable infrastructure that creates local economic opportunity, reconnects neighborhoods, and connects the region."
Suburbanization Unkind to Cities
The suburbanization of America and the development of the Interstate Highway System — an unprecedented period of intense growth that took place in the post-World War II era — was not kind to cities. In many urban areas the Interstate Highway construction destroyed entire neighborhoods. Many downtown areas suffered, including downtown Oakland.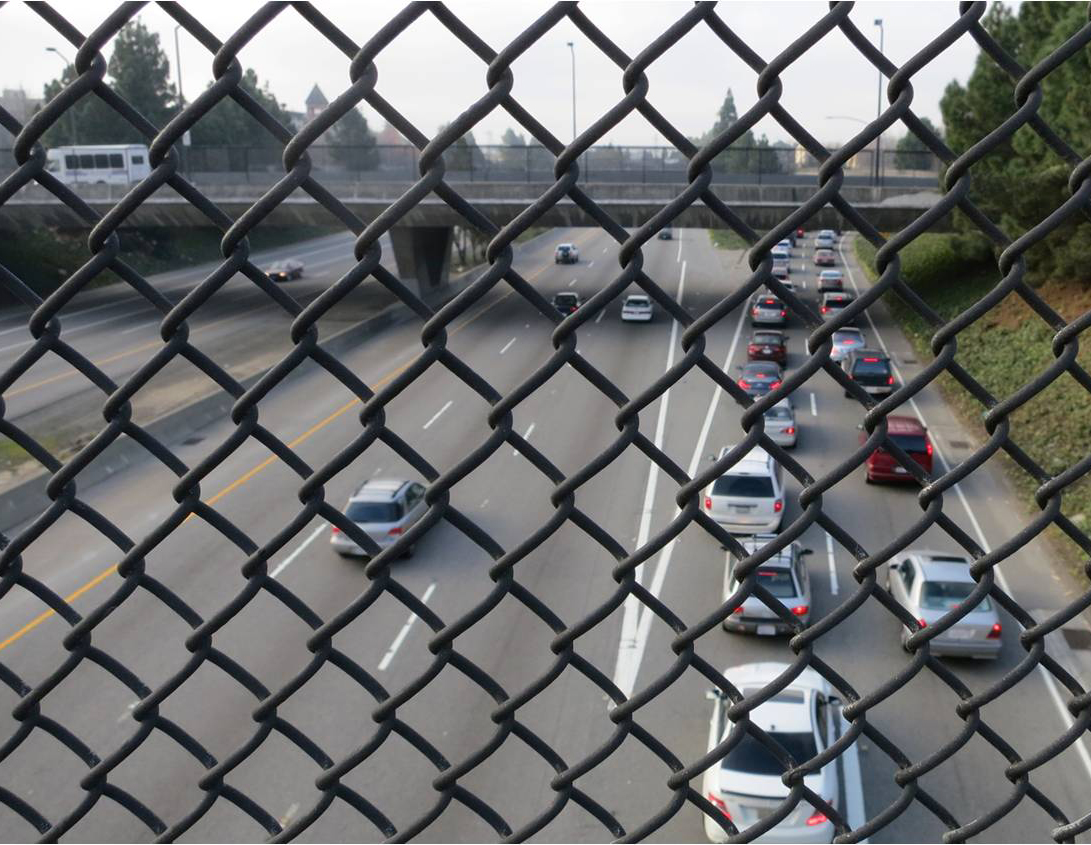 Route I-980
Source: ConnectOakland
"West Oakland was encircled by highways that bulldozed swaths of homes, cut neighborhoods apart, and privileged the transportation needs of the suburbs above the quality of life of the predominantly African-American urban core culminating with the completion of construction for I-980 in 1985."
I-980's primary purpose was to provide access to downtown Oakland, and while freeways are a great way to move people between cities, they are not the best way to move people into, around, or through the urban core.
History of I-980
Route I-980 is a two-mile portion of the Grove Shafter Freeway that runs between the Nimitz Freeway (I-880) and the MacArthur Freeway (I-580) in downtown Oakland. The seeds for I-980 were planted in 1927 as part of an effort to build a second San Francisco-Oakland Bay Bridge, which would connect Castro Street and Grove Street in Oakland with Hunters Point in San Francisco. The so-called "Southern Crossing" never materialized, but Oakland's aspirations of becoming an integral transportation connection point for the Bay Area continued to drive transportation planners. Plans for Route I-980 were formalized in the 1950s, but community opposition kept the project at bay for two decades.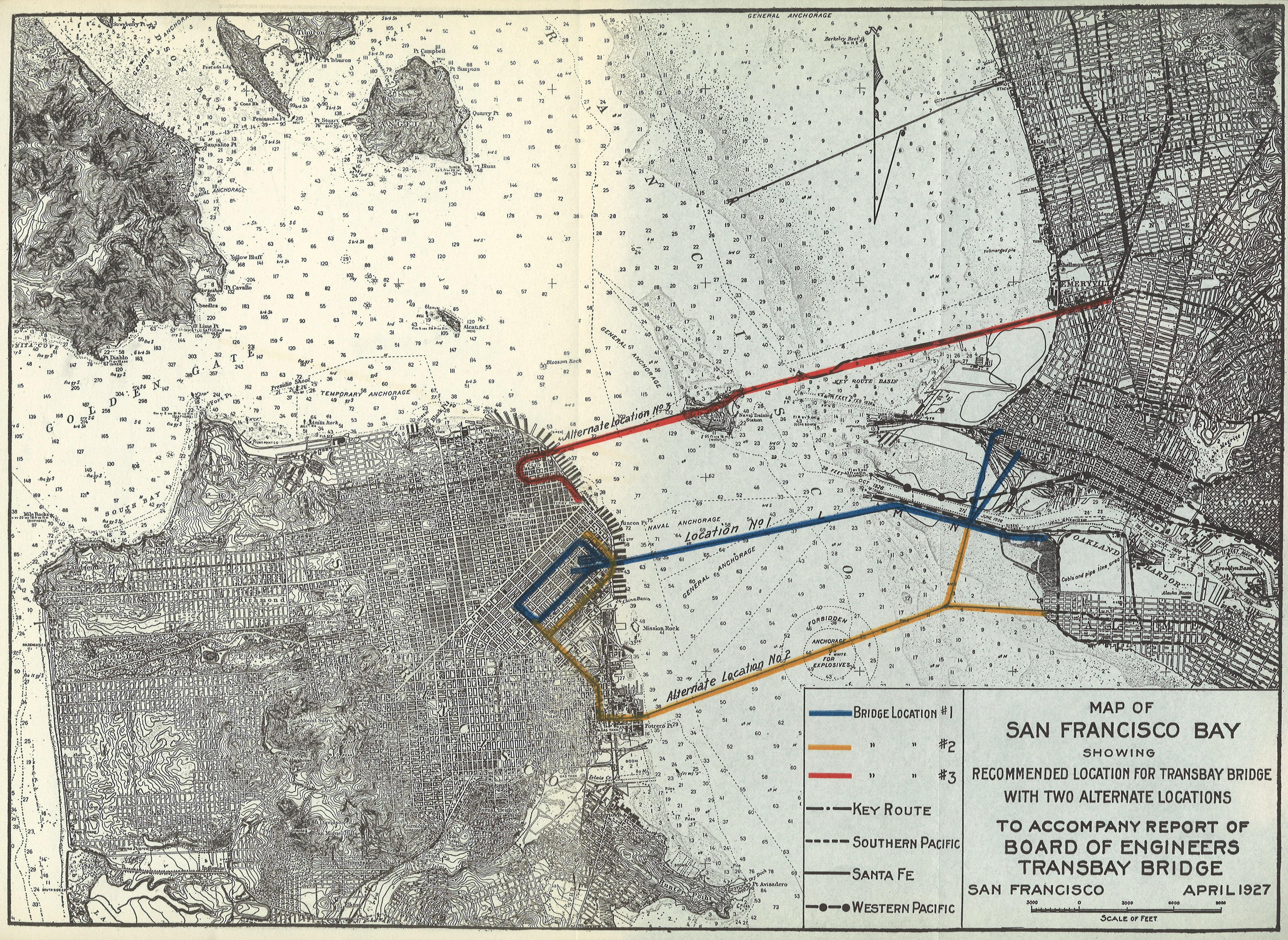 Bay Bridge Second Crossing
Source: ConnectOakland
Voters rejected the Bay Bridge Southern Crossing plan in the early 1970s, but "by then more than 40 acres in the string of blocks between Brush and Castro streets had been acquired and partially cleared."
Completion of the project became a priority again in 1975, but for a different purpose. This time, the route was seen as necessary for the success of the proposed Center City redevelopment project, which was intended to create jobs and spur business growth in downtown Oakland. I-980's purpose was to provide access to downtown Oakland and to the Center City project – including direct access from exit ramps into massive proposed parking garages lining the corridor.
"There was large opposition to the freeway early on, and then there was a time in the late '70s when the completion of the freeway was tied to the potential construction of a large indoor mall at City Center downtown. Many in Oakland went from being against the freeway to supporting it because they thought that the mall was going to save Oakland and encourage economic investment," said Chris.
Today, the I-980 freeway is mostly used as an on-ramp and off-ramp to the city of Oakland and has become a symbol of poor planning and urban design. However, the ConnectOakland vision has the potential to create a beautiful new gateway to Oakland with enormous benefits for generations to come.
From Freeway to Boulevard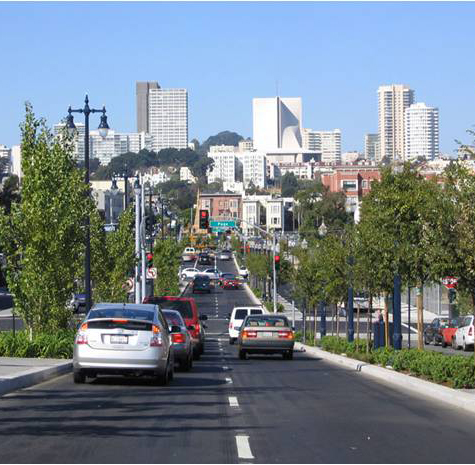 Octavia Boulevard, San Francisco
Source: Elizabeth MacDonald
Today many urban boulevards that were converted from freeways, like San Francisco's Embarcadero and  Octavia Boulevard which both replaced double-decked freeways, have been hailed as urban success stories. In 2005, Central Freeway was replaced with the tree-lined Octavia Boulevard that includes a landscaped median and four through-lanes flanked with local access and bike lanes. The project   included a small park and enabled the production of much-needed affordable and market-rate housing and spurred new shops and restaurants in the neighborhood. Other examples can be found in Portland, Boston, and around the globe. ConnectOakland envisions an equally ambitious, pedestrian-friendly solution for I-980 to knit back the neighborhood fabric and undo the damage caused by the freeway.
The stories behind I-980
ConnectOakland envisions a future that includes a second trans-bay crossing, but that will be the subject of a future blog. For now, Chris is committed to telling the I-980 story — its past, present, and future — and believes that there are many stories yet to be told of the people who have had to live with the barriers created by I-980 as it exists today.
ConnectOakland is a non-profit volunteer organization with dedicated researchers, storytellers and urban designers who believe in the potential for a reconnected West Oakland. The organization is seeking volunteers and funding to continue to pursue this bold, ambitious plan. On Jan. 21 Chris will present the ConnectOakland vision as part of a panel discussion at SPUR Oakland. To learn more or volunteer, please contact Chris at connect@connectoakland.org.