Exploring On Site Materials Reuse For The Kirkham Project
September 22, 2016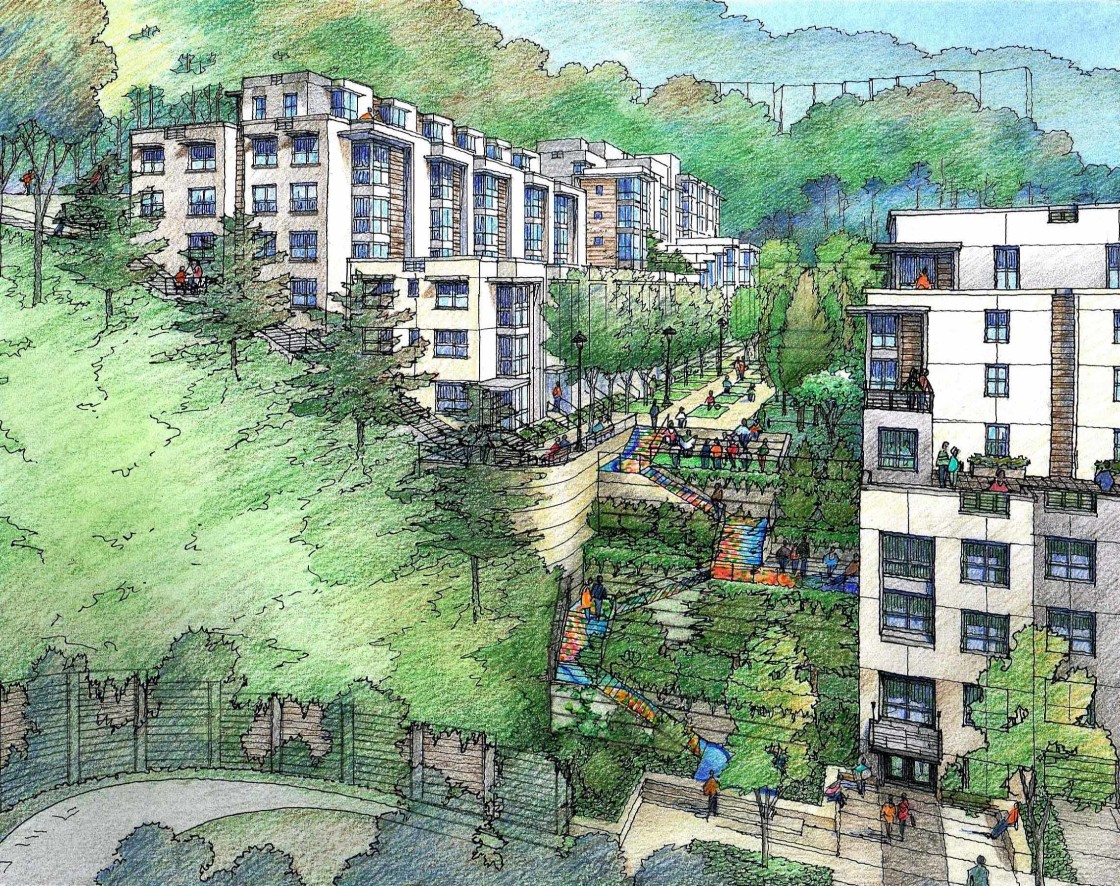 Westlake Urban is teaming up with Watershed Materials and Alpha Group to explore a solution to a problem that real estate developers often face – excavation that has to be moved off a construction site to make way for new buildings. Rather than haul off all of the excavation material and then import thousands of concrete masonry units (CMUs) for use at the project, Westlake Urban is working with Watershed Materials to explore repurposing native excavation material right at the job site to create the structural masonry blocks used in the development. Truckloads of offhaul and truckloads of imported building materials could be eliminated by using the excavation to make the structural block, adaptively reusing waste to produce on-site building materials.
The companies are working together to test the feasibility of the novel adaptive reuse strategy at the Kirkham Project, Westlake's proposed urban infill redevelopment of the Kirkham Heights Apartments in the Inner Sunset neighborhood of San Francisco.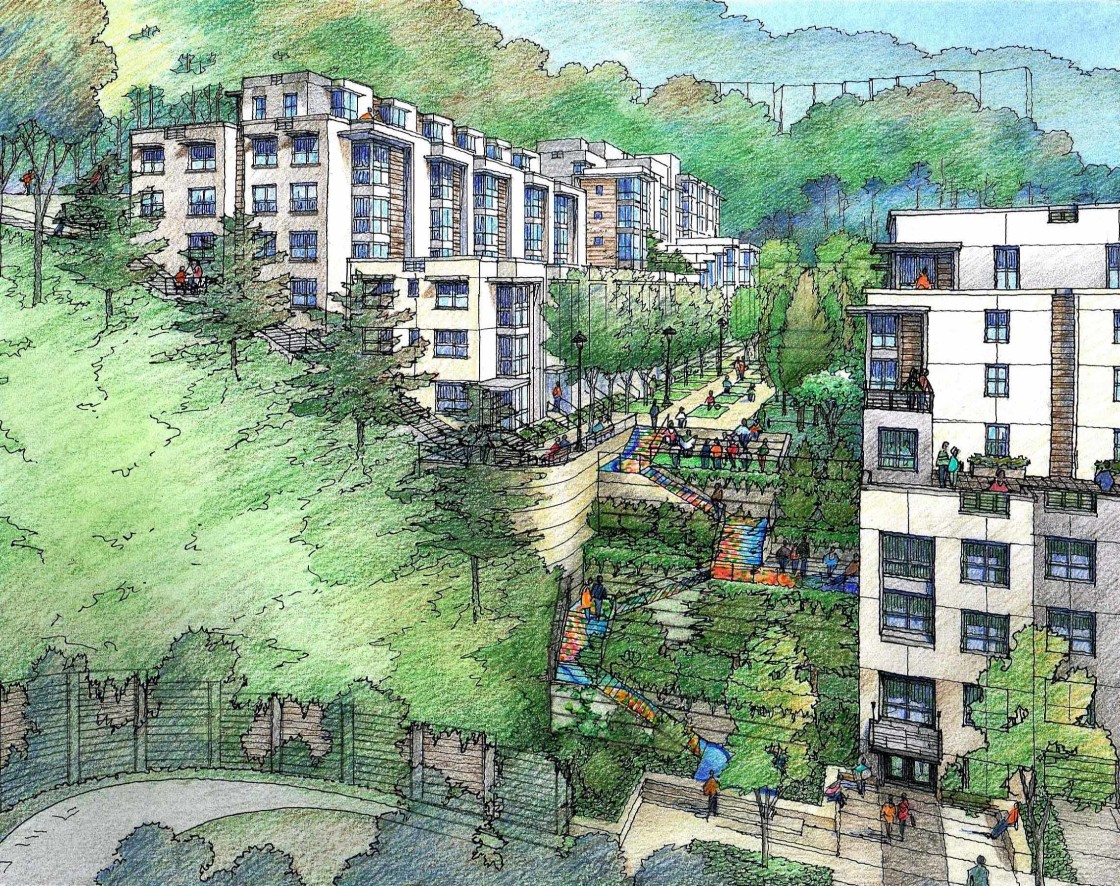 Photo: Westlake Urban
Watershed Materials, a sustainable building materials startup funded by the National Science Foundation, develops technology for the production of structural masonry using high compression, low cement technology and using locally sourced, unwashed aggregates. The company has a pilot factory in Napa where it produces masonry blocks using aggregate sourced from local quarries. The company has created a small, portable block production machine, a sort of pop-up facility, that can be located on the construction site at real estate developments to produce masonry block from the excavation spoils, much in the same way it produces block from unwashed quarry aggregate.
The breakthrough in Watershed Materials technology is the discovery that applying very high pressure to a mixture of sand and gravel can turn those mineral grains back into a sort of sedimentary rock, mimicking the natural geological process known as lithification that creates stone from loose sedimentary material. What takes nature many millennia to accomplish is duplicated in seconds in Watershed Materials' high compression masonry production equipment.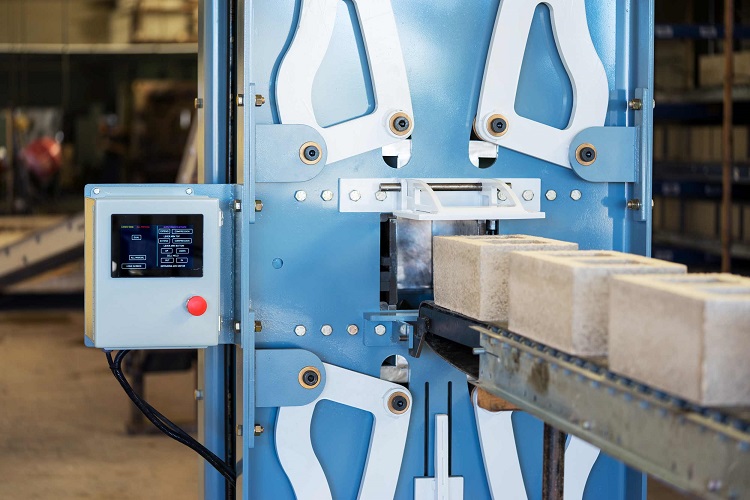 Photo: Watershed Materials
Watershed Materials founder David Easton has a long history of using on-site aggregate for building structural walls using a construction method known as Rammed Earth. As David points out, "There's absolutely nothing new about building masonry structures from local materials. Some of the oldest and best-known architecture in the world has been constructed from stone and clay sourced directly on site. What is new and absolutely groundbreaking is that with upgraded technology and improved material science, a construction waste product the developer had to pay to dispose of can now become an asset and provides environmental benefits as well."
The Kirkham Project proved an ideal opportunity to explore the feasibility of this novel approach. Nestled against the Mount Sutro Open Space Reserve in the Inner Sunset, the existing topography of the site would require excavation to create a new neighborhood that is consistent with the City of San Francisco's Better Streets Program and will accommodate increased housing density, community open spaces and improved accessibility. Westlake Urban's proposed development includes realigning 5th Avenue to create a new neighborhood of up to 445 housing units. The project will also include community plazas, gardens, and stairways to view overlooks of the Pacific Ocean and Golden Gate Bridge. The project addresses the City's dire need for additional housing near a major employer (UCSF) and public transit, but some neighbors have expressed concerns about the construction truck traffic related to the new development.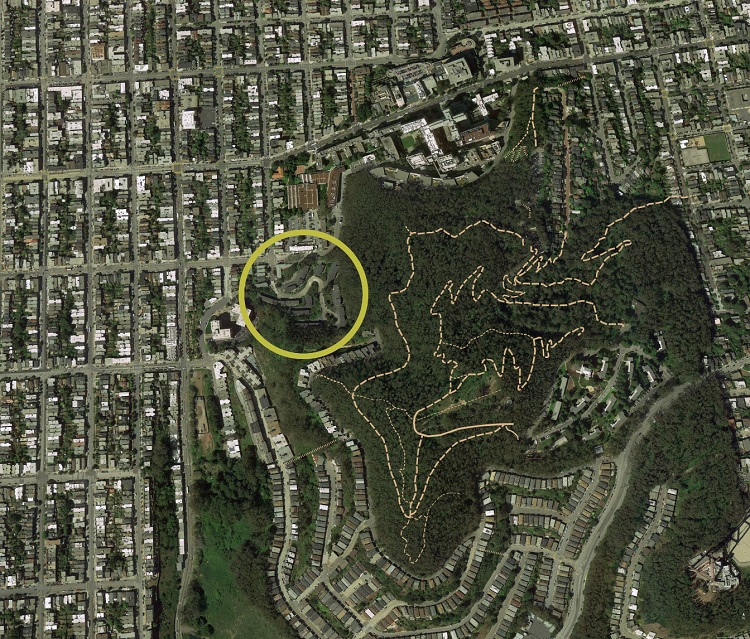 Photo: Westlake Urban
The Kirkham Project's Development Manager, Naomi Porat of Alpha Group, connected with Watershed Materials and coordinated an in-depth feasibility analysis to determine the environmental, economic, and community advantages of on-site block fabrication as a means to reduce off-haul.
"Many of our developments require trucks to haul the excess excavated material to offsite locations," said Porat. "As a long-time entrepreneur in the green building and prefab industries, I was on a mission to find a sustainable solution for The Kirkham Project when I met David Easton of Watershed Materials. I suggested the idea of an onsite pop-up plant as a possible solution. The concept resonated with David Easton as a way to bring this innovative technology to construction sites. Our preliminary feasibility analysis at The Kirkham Project was extremely promising and we are now engaged in further analyses to prove the concept and confirm that the methods and technology will work for the project."
The Kirkham Project development team, in collaboration with Watershed Materials, summarized the compelling advantages and potential challenges of the on-site fabrication facility and block integration in the project:
Reduces off haul: Kirkham Heights is an infill redevelopment project in an existing neighborhood. Producing block on-site allows for a reduction in the number of truckloads of off haul needed to remove excavation. Reducing off haul reduces costs reduces diesel emissions and importantly reduces impact on the neighborhood.
Aesthetic, indigenous sustainability: Watershed Blocks are a beautiful building material that help to tell the story of more sustainable development practices.
Reuse of site material provides an excellent demonstration of an important and cost-effective innovation in the real estate industry.
The pop-up block machine is no louder than the excavation machinery or typical construction equipment and it is only on the site for a limited period of time.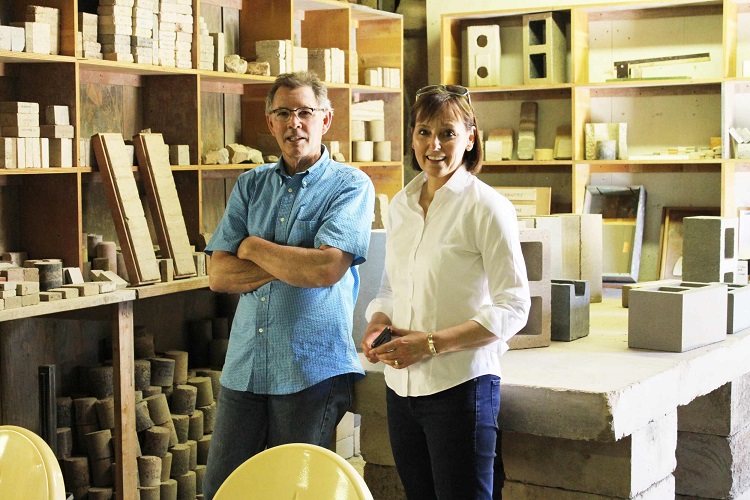 Photo: Watershed Materials
Gaye Quinn of Westlake Urban succinctly summarizes the advantages of this approach: "Real estate developers like us are always looking for creative, sustainable solutions to problems we face as we develop our properties. David Easton and his team at Watershed Materials created both a product and a process that solves a number of problems for us. First it creates a product that is both useful and beautiful. And equally important, it reduces the environmental impacts of truck traffic that would be required to take the material off site. We were thrilled to see that the excavation at our Kirkham Project in the Inner Sunset in San Francisco creates absolutely gorgeous, structurally strong building blocks that can be created onsite, and we are optimistic about the possibility of incorporating the blocks in our proposed project. We would have been happy simply to use the material in places where it would be unseen as a utilitarian material, but after seeing the sample blocks, we are pushing our designers to find as many ways as possible to put them on display."