How to Have Conversations about Change
March 24, 2017
"We spend our time responding rationally to a world which we understand and recognize, but which no longer exists." — Eddie Obeng
Something unusual just happened in San Francisco. A new, mixed-use housing development was unanimously approved by the Planning Commission. The project, 1028 Market, located at the intersection of San Francisco's Tenderloin district and the up-and-coming Mid-Market Corridor, includes 186 rental units and 10,000 square feet of ground floor retail. The Planning Commission's approval of the project was preceded by effusive and heartfelt community support. 1028 Market replaces a building that had many previous uses—billiard hall, theater, strip club, warehouse—but in recent years had sat vacant, a dangerous eyesore avoided by neighbors and passersby, until the developer converted the space into The Hall, which activated the street and served as a community  meeting space throughout the lengthy approval process.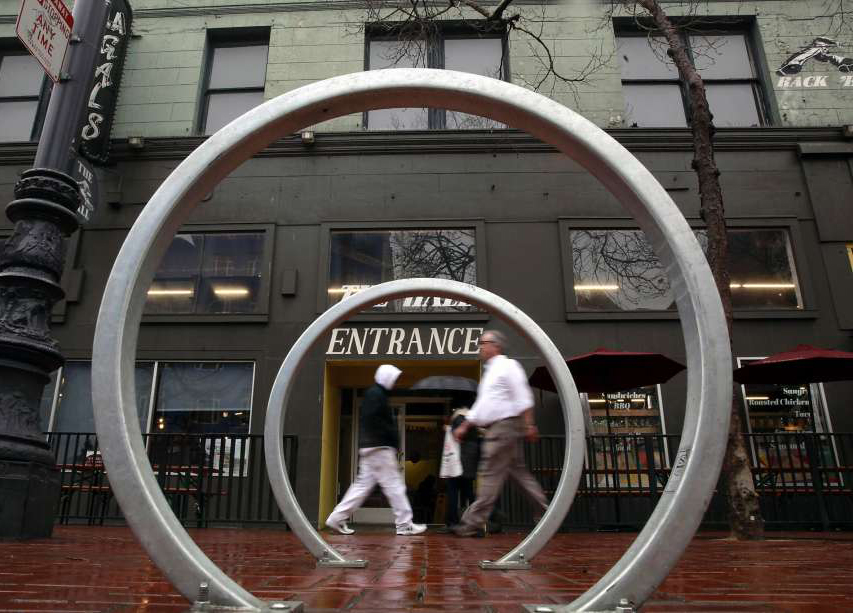 Photo: SF Chronicle
There are many lessons to be learned from this exceptional project. Not only from the design of the building, but also from the deep, authentic community engagement process orchestrated by the development team of Tidewater Capital and Warhorse. Instead of demolishing or boarding up the vacant building, they chose to activate the long-vacant space while they navigated the City's lengthy approval process. As a result, this once-abandoned building was transformed into a pop-up small business incubator, meeting space, and engaging, temporary exhibition of a future art installation called LightRail.
The development team made it a priority to get to know the people in the area by listening to their stories and soliciting input to help guide the project. The community outreach process generated trust, which led to overwhelmingly positive feedback—the key to the eventual approval of the project. Neighbors, artists, environmentalists, affordable housing builders, and youth workers all came out to speak in favor of the project.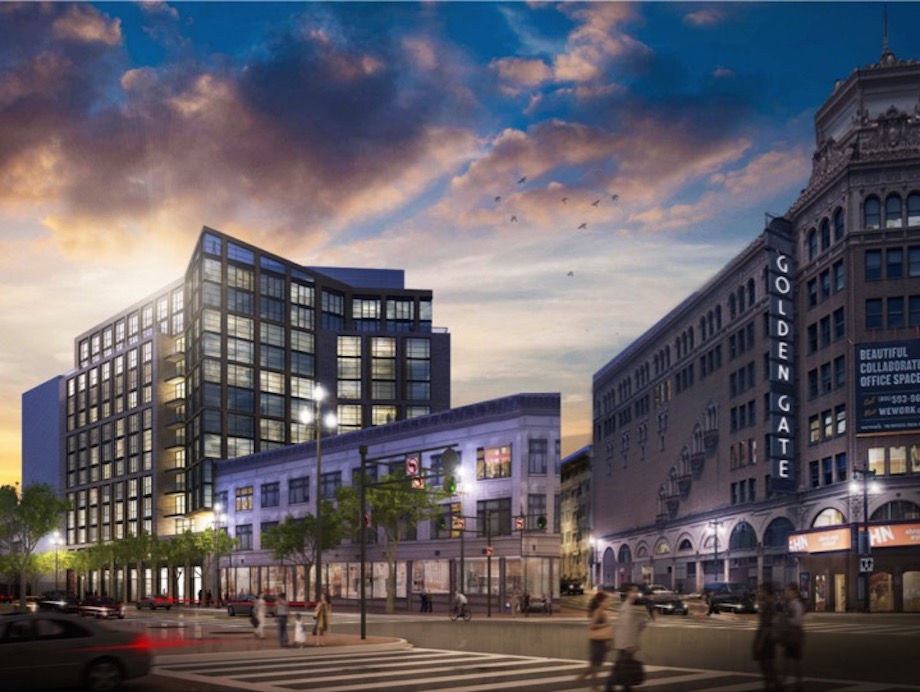 Photo: SF Planning Commission
Together, the developer and the community created a new story—one about possibility, progress, and a shared vision. This developer lived up to its values of developing real estate "as engaged members of the communities in which we operate."
"We are honored and excited by the overwhelming community support for the 1028 Market Street project. We believe that development can have a positive impact on neighborhoods and can foster strong communities, and that starts by having open conversations. The Hall afforded us the opportunity of building deep relationships with neighborhood stakeholders, which allowed us to have ongoing conversations about development, and about how we can all co-create the communities in which we want to live, work, and play." – Tidewater Capital.
The City is in the midst of a housing crisis, so it makes sense that a well-designed project that adds much-needed market-rate and below-market rate housing should receive unanimous approval from the Planning Commission. And yet, 1028 Market is a rarity simply because it passed with so little opposition.
According to Gabriel Metcalf, President and CEO of San Francisco Bay Area Planning and Urban Research Association (SPUR), San Francisco accomplished amazing things in the late 20th Century, including inventing new models of affordable housing, investing in public space, adopting a transit-first policy, and creating a welcoming environment for people from all over the world. But when waves of gentrification and new employment began hitting the City, progressive San Francisco "decided that new development, with the exception of publicly subsidized affordable housing, was not welcome."
The City has become notorious for its lengthy approval process and slow-moving bureaucracy. Despite unanimous support, 1028 Market took three years to advance through the approval process, and it will take three more years until the apartments are ready to be occupied. Six long years…and that's the best-case scenario in a city where more housing is desperately needed.
"Not everything that is faced can be changed, but nothing can be changed until it is faced." — James Baldwin
Westlake Urban is in the middle of a lengthy approval process for the Kirkham Project, one of San Francisco's first major urban infill developments in the western section of the City.
Owned by Westlake for more than 40 years, the 86-unit apartment community was built in 1950. At the time, it represented the latest thinking in modern residential design. The most notable architectural features—and a key sales pitch at the time—were the open carports at the base of each building, symbolic of the automobile's place of prominence in midcentury living. The auto-centric design created buildings that are separated from each other as they stair-step up the hillside. Pedestrian and bicycle access weren't even considered at the time, making car ownership mandatory to navigate the area. Further, the site has few shared outdoor open spaces and no interior common rooms where residents can meet and socialize with their neighbors. The 67-year-old buildings were designed without elevators or ramps–and are ill-suited for residents with mobility limitations.
As long-term property owners, we observed that the deficiencies of the buildings and the site have become more problematic over time. We concluded it was time to re-envision the future of the property as a place with modern amenities and improved accessibility and community connections.
Given its size, location, and proximity to the UCSF medical campus, the site is appropriate for additional homes and a mix of housing types that will serve many income levels. Our goal is to create a new neighborhood that retains housing affordability, connects the community, provides access to the environment, and offers an exceptional experience for the residents at Kirkham Heights and the surrounding community. Because the Inner Sunset location is transit-rich, the site has been designed to include, promote, and celebrate mobility alternatives to the automobile including bicycles, walking, car share, and public transportation.
The proposed plan for the property is a creative design that will add much-needed market rate and affordable housing designed for families, individuals, and people of all ages. Importantly, Westlake provided a written commitment to current residents that enables them to return to the new project (continuing at their rent-controlled rents) upon completion, when they will be able to move into modern apartments that will allow them to age in place without the limitations of the current buildings.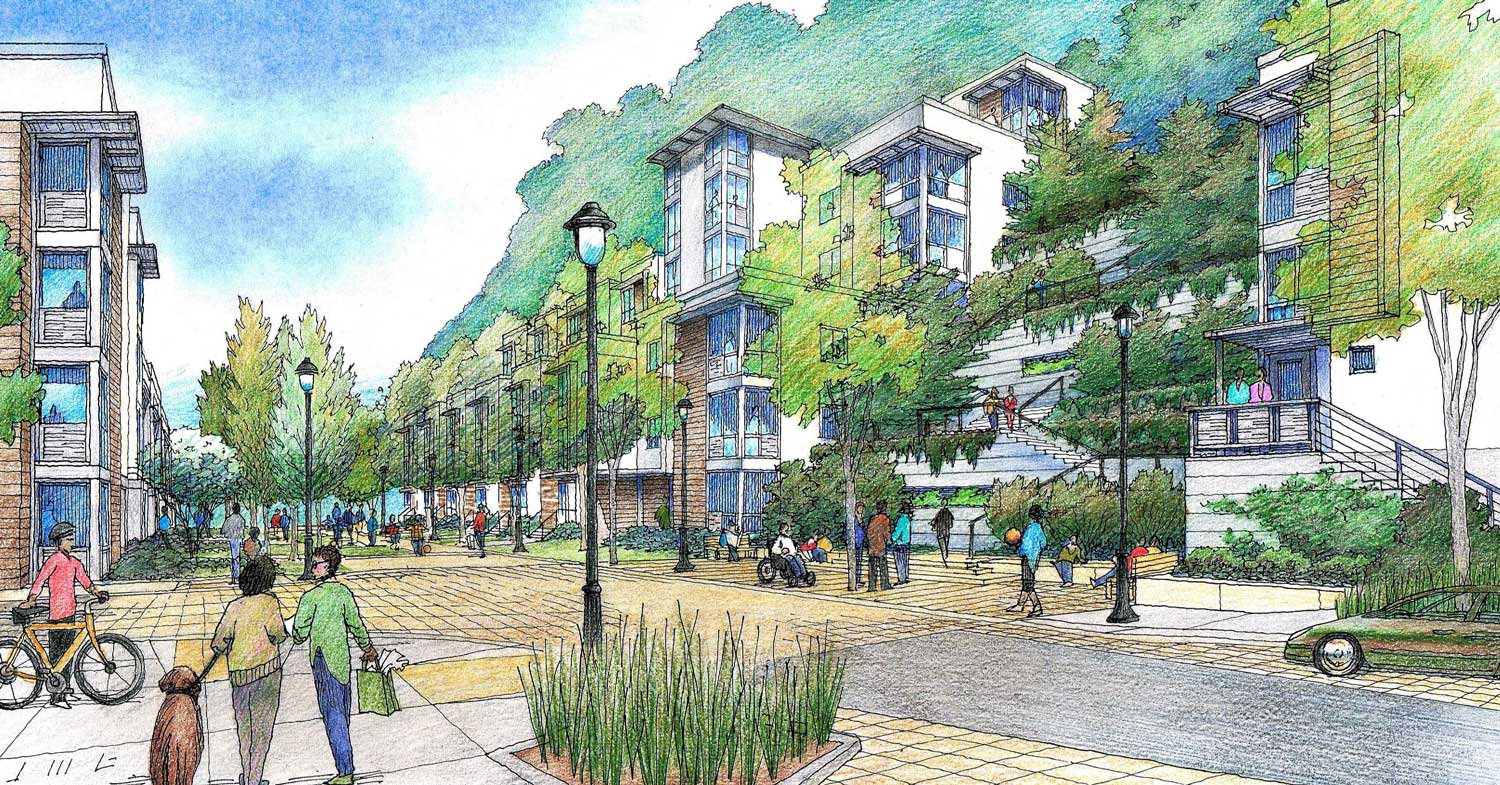 Our goal for the months ahead is to continue with a process that we hope engages the neighborhood, the residents, and the City in a way that brings a fresh vision for replacing buildings that were designed for a bygone era with a plan for a new place that is infused with fresh ideas and enduring design principles.
"Every conflict is in part a battle over the story we tell, or who tells and who is heard." — Rebecca Solnit
The forces of change are incredibly powerful right now, and we're all just a little bit off balance. Things are moving so fast that "the pace of change is overtaking the pace of learning." The system of creating housing and replacing existing buildings in our region is broken—it takes too long, costs too much, and is much more acrimonious than it needs to be. Fixing a problem this big starts with a new kind of conversation—a conversation less framed as "winning and losing" or "us and them"—and more about connection, generosity, empathy, and collaborative change.
At Westlake Urban, we have learned that we do our best work when we are committed to a more collaborative, more inclusive, and more generous process. If we are to be successful, the result of our work must be projects that connect and inspire as we reinvest in our communities.
We've spent the last three years working on the Kirkham Project—and we'll spend another three or more—getting to know the residents and neighbors and answering the tough questions that need to be answered if we are to create a connected and inspiring new neighborhood.
Our objective is to create a new place that positively contributes to the neighborhood, provides new connections, and benefits the existing and future residents. It's a complicated process, and as developers we know that we earn our credibility by listening attentively, analyzing data, responding diligently, integrating feedback, and demonstrating results. Like the process with 1028 Market, ours is likely to take several years before the new Kirkham Project buildings are ready for their residents. In the meantime, we are committed to engaging in conversations about the changes we are proposing and the ideas and principles we believe in. The outcome—we invite you to imagine it—is a city that is living up to its principles of openness and honesty, and a community working together to solve one of the most vexing challenges of our generation.
We invite you to join the conversation.