It is with deep sadness that we announce the passing of T.M. Chang, founder of Westlake Realty
June 18, 2017
Tsi Ming (T.M.) Chang
April 16, 1920 – June 8, 2017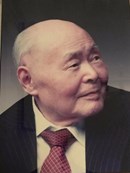 Tsi Ming (T.M.) Chang, beloved husband of Yoshie Chang, patriarch of the Chang family and visionary businessman passed away at the age of 97 in his sleep on June 8, 2017. Born in Shanghai, China, his ancestors were sailors who traded on junks along China's coast. His father was the first of the family to settle on land. T.M. was 12 when the Sino-Japanese war broke out and he escaped with his family to Zhenhai – Ningbo in Zhejiang province. The war made it impossible to continue his education so he joined his father in the family pickle business.

T.M. was a true visionary and at the tender young age of 15, he knew that the future lay beyond China's borders. He left with his father's blessing and because his father had no money, T.M. was given 12 vats of pickles to pay for his journey to Singapore. He endured many struggles during World War II, travelling around Southeast Asia – Hong Kong, Canton, Manila and Singapore, often hungry and thirsty. He managed to survive and embarked on the journey that would lead to his great successes in Japan, China and the United States.
In 1948, at the age of 28, he founded the Da Hua Trading Co. in Hong Kong that he sold a year later to his cousin. That company still exists today as Great China Trading and is run by another branch of the Chang family. Predicting the rise of Japan and Germany from the ashes of WWII, he made a strategic decision to leave for Japan where he re-established Da Hua Trading (Nichidoku Yakuhin). He then formed a partnership with Schering AG of Germany. In 1955, T.M. married Ms. Yoshie Fujino and started his family, with the births of William (1956), Hochan (1958-1962), Tobias (1960), Walter (1961) and Aiwah (1969).
In the late 1960's he predicted the decline of Japan and its inability to compete on the global stage because of its lack of natural resources. He made another strategic decision to move to America, foreseeing the advent of the technology revolution that was just beginning in the U.S. In 1973, T.M. sold his company to Schering Germany and brought his family to America. He named his company Westlake for the beautiful lake region in China and his first real estate investment in the U.S. was "Westlake Shopping Center". Knowing that he was not educated nor savvy about technology, he did not invest in technology companies. He did, however, know that the technology revolution would eventually trickle down to real estate because all those companies would need facilities. So he invested heavily in real estate in the Silicon Valley. He continued to build Westlake and today the company holds a portfolio of office buildings, apartment buildings, industrial complexes and shopping centers.
On the global stage, T.M. predicted the failure of Mao's Cultural Revolution. He foresaw China's transformation from a socialist economy to a market economy. He saw that China would one day become a superpower and in 1976, began doing business in China while Mao ZeDong was still alive. He established over 50 businesses in China including Huasheng Television, the first independent TV station to promote the new China; Baotou Hauxi Rare Earth Factory in Inner Mongolia; 14 supermarkets in Inner Mongolia and factories producing cashmere, ceramics and furniture. He befriended and advised many prominent Chinese leaders including former President Jiang ZeMin, former Shanghai Mayor Wang DaoHan and former Premier Zhu RongJi.
T.M. was a passionate advocate of advancing U.S. – China relations and facilitated many exchanges between both countries. He truly believed that a U.S.- China friendship would be a significant contribution to world peace. He founded the Chinese Chamber of Commerce in San Francisco and served as its first President. In the 1980's when China was hungry to learn U.S. business strategies but too poor to send over its people to study in the U.S., T.M. established the New China Education Foundation to bring over Chinese business executives to receive U.S. training. He also endowed the T.M. Chang Professor of China Studies at Harvard to teach the U.S. about China. Today, that chair is held by Professor William Kirby, one of the most esteemed China Scholars in the U.S. and former Dean of the Faculty of Arts and Sciences at Harvard.
In 2002, T.M. retired at the age of 82 and passed the torch to his son William. He suffered a devastating loss in 2011 when his beloved Yoshie passed away but he took great comfort from being surrounded by his loving children and grandchildren. The family now takes great comfort in the fact that he did not suffer long and is now rejoined with Yoshie. T.M. was also predeceased by a son Hochan (1962), his brothers Tsui Chun and Tsui Ching, and his sisters Wei Fang and Ying Fang. A younger sister, Rui Fang survives him. T.M. is also survived by his children: William (Diana), Tobias (Mami), Walter (Ling-Ling) and Aiwah (John) and his grandchildren, Kristina, Kelly, Kimberly, Christopher, Sharlene, and Darren. A viewing was held on June 10 at Sneider Sullivan & O'Connell's Funeral Home and services will be private.
In lieu of flowers, please donate to SteppingStone Adult Day Health, 930 Fourth Street, San Francisco, CA 94158 or www.steppingstonehealth.org for low-income seniors and disabled adults OR to Wounded Warrior at www.woundedwarriorproject.org. The family also wishes to thank the wonderful caregivers who took such loving care of T.M. in his final days.