Tactical Urbanism: Connecting people and places through small-scale changes.
July 20, 2016
To improve public space, little projects can yield big rewards: a pop-up "parklet" on a big-city street, a shopping mall made from shipping containers, or bicycle lanes and other street enhancements produced through "quick-build" projects that use a mix of local funding, volunteer efforts, and creative staffing solutions to bring about long-lasting changes.
Known as "tactical urbanism," these actions are part of a citizen-based movement that is bringing welcome improvements to connect people to public spaces in urban communities.
Tactical urbanism is a term coined by authors Mike Lydon and Anthony Garcia, who saw the pattern and documented citizen-led efforts to "take action when confronted with the slow pace of change." Tactical urbanism takes a wide variety of forms, from food trucks and pop-up markets to hand-painted bicycle lanes and low-cost traffic calming measures. According to Lydon and Garcia, efforts range from unsanctioned "guerilla interventions" to collaborative-initiated, city-sanctioned demonstration projects to test longer-term infrastructure modifications.

The city planning and development process is essential for long-term, large-scale projects, but it is also time-consuming and bureaucratic, and it can frustrate community members who just want to get things done. Tactical urbanism, on the other hand, is a grassroots movement that focuses on smaller, more organic "fixes" that can yield positive results in less time.
Advocates of the movement stress that tactical urbanism won't solve every problem, but it does present a welcome alternative to a convoluted, large-scale planning process. And, unlike standard planning efforts, failure is an option. Low-cost, temporary changes that don't work can easily be dismantled and removed. No harm, no foul.
Here are three examples of tactical urbanism that caught our attention:
Restarting Christchurch, NZ.
In Christchurch, New Zealand, the flexibility and quick turnaround associated with tactical urbanism worked to the city's advantage at a devastating time.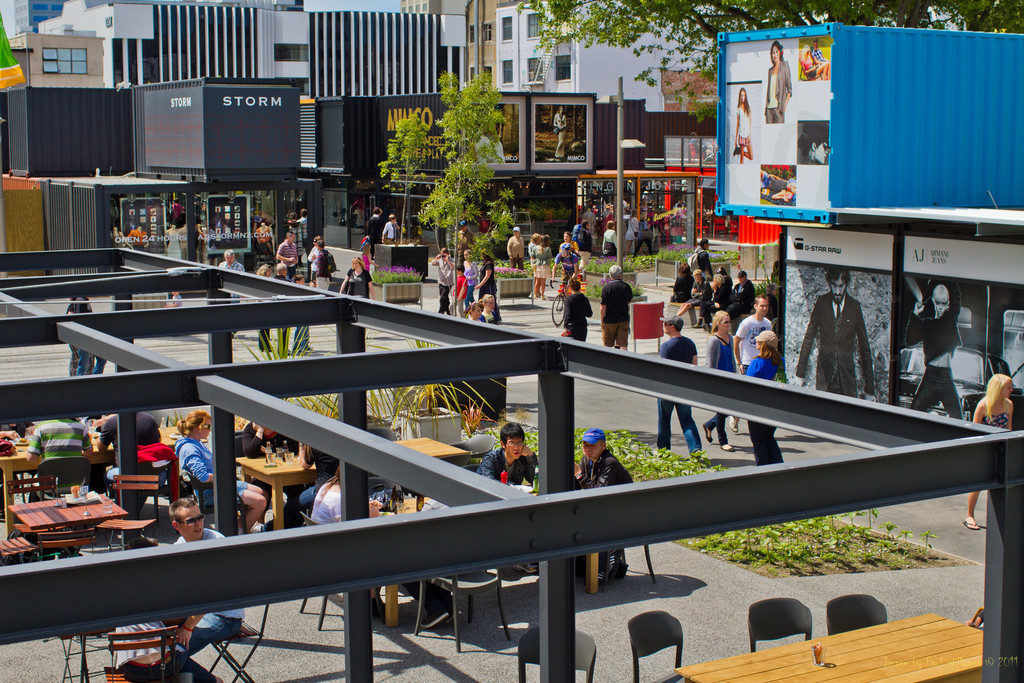 Photo: Backpacker Guide NZ
On February 22, 2011, disaster struck: A magnitude 6.3 earthquake collapsed thousands of buildings in a matter of seconds, killing 185 people, destroying an approximate 4-mile area in the city center, and causing $40 billion in damage.
Local businesses and property owners—concerned that the wait to rebuild the entire central business district would take many years and further hurt the economy—came up with a creative recovery plan: Construct a retail center out of simple, inexpensive shipping containers. Seven months after the quake, a ship pulled into the Littleton Harbor with 64 containers that would become the new mall.
On Oct. 29, 2011, the Re:START Container Mall opened with 27 businesses in brightly colored shipping containers. On the opening weekend, more than 20,000 people visited. The city's new downtown now features over 50 businesses, plus market stalls, buskers, and street performers, and has since become the focal point for Christchurch's tourist industry.
Jane Warner Plaza, San Francisco, CA
The Jane Warner Plaza in the Castro District of San Francisco might be known as the "try before you buy" form of tactical urbanism. It began as an experiment, underwent some changes, and finally became a permanent gathering place in an odd intersection divided by municipal railway tracks where colorful F-line trolleys roll through.
Photo: Hoodline.com
The plaza started out in May 2009 as a two-month trial, the first project of the city's Pavement to Parks program, which "seeks to transform the dialogue about San Francisco's public realm and the role of public spaces in the life and vitality of the city." City officials worked with Castro merchants and various other interest groups to make it happen, and volunteers played a vital role in managing the space—picking up the tables and chairs at night, sweeping, and taking care of plants.
When it opened, San Francisco Chronicle architecture writer John King said the plaza "offers urbanity at its ad-hoc best, and a reminder that when the aim is to better a city, small moves can be more fruitful than grand schemes."
The 7,800 square-foot plaza, at the west end of 17th Street between Castro and Market streets, has since become a favorite hangout place for locals and tourists to sit and enjoy coffee, or listen to occasional concerts featuring music ranging from jazz to classical.
The second trial phase lasted from 2010 to 2013, and that year became a permanent street closure. The pedestrian-friendly terminus has become a welcome front door to the festive Castro District, the cornerstone of the city's LGBT community.
Quick-Build Street Projects in Seattle, Memphis, and NYC
In many cities, tactical urbanism has inspired city-led Departments of Transportation (DOTs) to rethink the planning process for small, low-cost street improvements through a new, "quick-build" implementation process focused on advancing bike and pedestrian infrastructure.
These projects are typically installed within a year of planning, with the expectation that they will undergo changes, and will be built with materials—such as movable traffic barriers, planters and posts—that allow for further adaptations.
In Seattle, for example, a mayoral mandate in May 2014 fast-tracked protected bidirectional bicycle lanes on Second Avenue, a one-way downtown street. Using in-house labor from the Seattle DOT, it took just four months from outreach to installation.
Photo: Nextcity.org
Other successful quick-build projects include: a protected bike lane on 2 miles of downtown streets in Denver that took less than a year to install; modified intersections and pop-up businesses and festivals in Memphis as a result of MEMFix, a community-led effort that activates city blocks with community gardens, bike lanes, and green space; and in New York City, dozens of pedestrian plazas and pilot bike lanes initiated by the city's DOT.
Community focus, realistic goals
Although tactical urbanism isn't the answer to all urban design problems, it can get the ball rolling and can jump-start small projects with deep impacts that give a community a chance to experience the changes before committing to costly public investments. And if a project doesn't work, then it can go away. That is the advantage of low-cost tactical urbanism.
And sometimes, as with Christchurch and San Francisco, those changes get tweaked and improved, becoming permanent. The movement isn't about circumventing public process, it's a way to experiment with small scale, innovative additions to a community that are low cost, practical and temporary–until the community determines that they warrant becoming permanent.
What has been the experience in your city? Have you seen any DIY projects that became reality? How might tactical urbanism engage people in your neighborhood, your city?  Share your thoughts, and please be sure to follow us on Facebook, LinkedIn and Twitter for daily updates from Westlake Urban.