Taking impossibility to the next level
December 19, 2016
Public art provides us with an opportunity for reflection and contemplation, as well as active enjoyment  and community engagement as artists redefine the relationship between viewer, object, place, and time.
The Bay Lights is the perfect example of an art installation that inspires and engages us – and tests our assumptions about what is possible. Designed by artist Leo Villareal, The Bay Lights is a giant canvas of shimmering, ascending and descending lights on the western span of the San Francisco-Oakland Bay Bridge and is now the largest LED light sculpture in the world. We may take it for granted now that the installation is permanent, but the project was initially considered impossible on three levels: impossible to permit, impossible to design with existing technology, and impossible to fund through private sources. But the visionary behind the project, Ben Davis, Founder and Chief Visionary Officer of ILLUMINATE, thrives on making the impossible possible.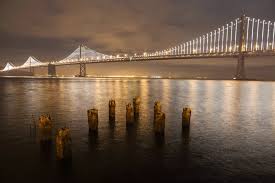 Photo: Illuminate
Projects like The Bay Lights must move beyond the individual artist and become the work of a community, according to Davis, because so many skill sets are required. Just the work of getting approvals and permissions to hang 25,000 LED lights on the Bay Bridge was a massive feat in a bureaucratic system that typically is designed to say "no" to such extravagant endeavors.
"The word impossible comes up a lot, and yet people keep selflessly joining the effort to make it a reality," according to Davis.
LIGHTRAIL
ILLUMINATE's newest project, "LIGHTRAIL," takes impossibility to the next level.
LIGHTRAIL extends the light and energy of The Bay Lights two miles along Market Street, San Francisco's busy, beautiful main boulevard. First imagined by local artists George Zisiadis and Stefano Corazza and described as the world's first subway-responsive light sculpture, LIGHTRAIL will feature multicolored LED lights on either side of Market Street, sequenced to reflect the movement of the BART and MUNI commuter trains that run underground. The lights will be attached 18 feet overhead to the city's historic Path of Gold streetlights.
Photo: Illuminate
ILLUMINATE also has plans to retrofit the entire Path of Gold streetlights–from the Ferry Building at the Bay to the Rainbow Flag in the Castro–with new, energy-efficient LED bulbs that will cut energy use by 80% while casting a better light on Market Street. The result will be a cleaner, greener, safer, more socially and culturally active and diverse Market Street.
ILLUMINATE has received approval and is now in the process of raising $10 million in private funding to make LIGHTRAIL a reality. The timing is ideal: the Bay Area will soon celebrate the 40th anniversary of BART and 100th anniversary of MUNI, which together transport over 300,000 riders daily.
Shine it forward
As these artistic visions illustrate, you don't have to be an artist to participate. You don't even have to live in the Bay Area. ILLUMINATE makes it easy for anyone to support the LIGHTRAIL project through the Shine It Forward program, which invites people to dedicate one of The Bay Lights' LEDs to a friend or loved one. Funds raised by Shine It Forward will help take LIGHTRAIL from vision to reality. And keep an eye on the LIGHTRAIL project website for updates, milestones, and other opportunities to join the effort.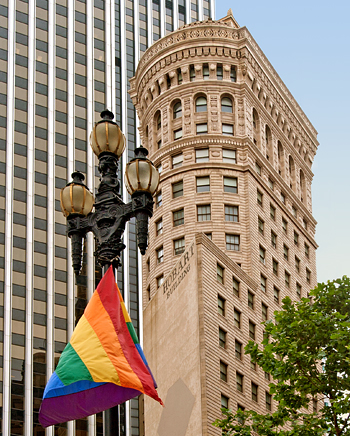 Photo: NoeHill.com
At Westlake Urban, we see visionary public art as a key component of re-investing in our urban infill developments.  It connects our work to the inspiration of the artist and with the communities in which we develop.  We believe there is a growing desire across generations to live and work in vibrant places where people are connected and engaged. We also believe that the success of our projects is contingent on our ability to shine it forward by transforming the communities where we invest for current and future generations of users. This belief fuels our work.
We welcome you to join the conversation. Share your thoughts, and please be sure to follow us on Facebook, LinkedIn and Twitter for daily updates from Westlake Urban. We would love to hear from you.