Three Little Words at the Heart of Creative Land Recycling
November 22, 2016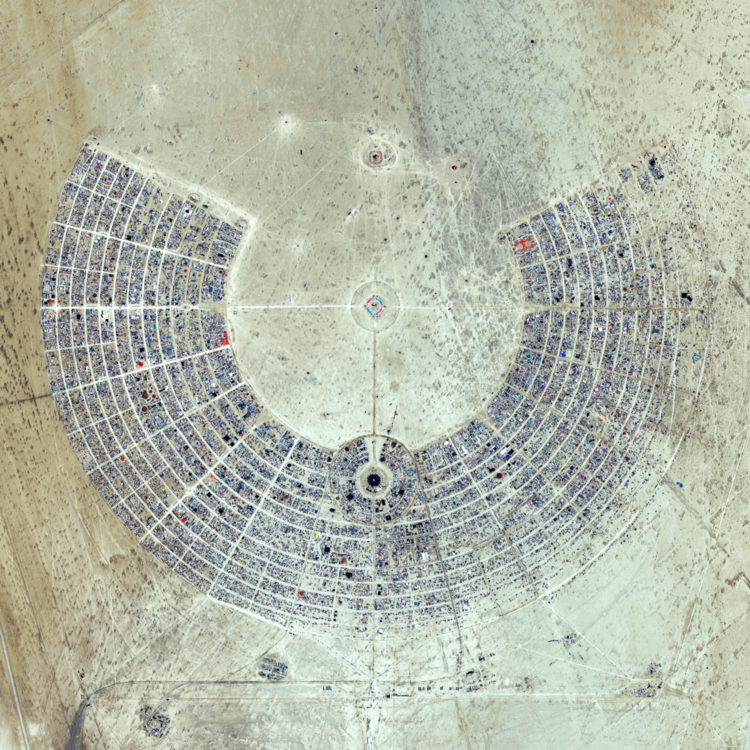 Reclaim, connect, transform: Those three words illustrate the arc of Westlake Urban's work to redevelop San Leandro's former Del Monte Cannery site into the new San Leandro Tech Campus (SLTC). Those three words are also at the heart of the work of the Center for Creative Land Recycling (CCLR or "see clear"). Founded in 1996 by the Irvine Foundation and the Trust for Public Land, CCLR is the oldest national non-profit pioneering the productive reuse of vacant, contaminated, or underutilized land.

Since CCLR's formation twenty years ago, ideas about redevelopment and infill have changed dramatically. We're making progress, but true transformation is difficult to achieve. How do you know when you've succeeded? From a land recycling perspective, the SLTC project is a unique and powerful case study of transformation, not only of a well-located, transit-oriented site, but a significant transformation of the City of San Leandro, due in large part to Truth is Beauty, a 55' tall iconic sculpture by the renowned artist Marco Cochrane, which was recently installed at SLTC.
Cochrane's monumental sculpture has been the subject of international media attention and has become a catalyst, igniting urgent conversations about land use, gender equity in the tech industry, and ending sexual violence. There is another transformation story, however, beneath Truth is Beauty's feet, and that story is equally catalytic. Westlake Urban transformed a vacant lot into a crown jewel for San Leandro, and in the process it has showcased land recycling's powerful potential to challenge and connect people and places.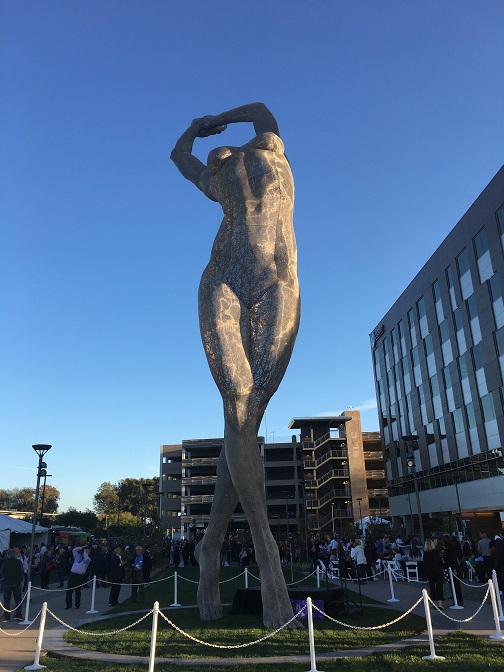 Photo: Mark Johnston
To reclaim is to take back and own once more. Reclaiming requires accepting what is difficult, ugly, or not immediately obvious as valuable. Indeed, central to reclamation is the ability to identify and unearth value where there was less before. Previously the SLTC site was a Del Monte Cannery dating from the 1890s. The site was purchased by Westlake Urban in the 1980s, but after the 1989 Loma Prieta earthquake irreparably damaged the brick cannery buildings, they were demolished. The site, which neighbors San Leandro's BART station, sat vacant for decades, waiting for an alignment of ideas and opportunities.
It is a fact of economics and urban planning that most urban land has had previous uses, and those uses can leave behind environmental concerns, including contaminants such as oil or other toxic solvents that can pose threats to human health and air, water, and soil quality. Safe and effective clean up can take these sites from blighted to bustling, but it is expensive, time consuming, and often riven with uncertainty. Reclaiming these sites therefore requires a creative vision and a dedication to overcoming financial, environmental, and regulatory obstacles. In the case of SLTC, the site's proximity to BART, bus routes, and highways were rare assets waiting to be leveraged increasing the property's value as a reclaimed site.
Connection happens on both a human and geographic level. On a human level, Truth is Beauty's lighting ceremony on October 18th brought together real estate developers, community leaders, technologists, Burning Man crews, and artists — diverse and disparate groups that might never have joined forces were it not for this visionary piece of art. On a geographic level, SLTC reconnected a long vacant site to the city's urban fabric, bringing people back to a long vacant place, and helping to repopulate existing places, to borrow an expression from Westlake Urban Managing Director Gaye Quinn.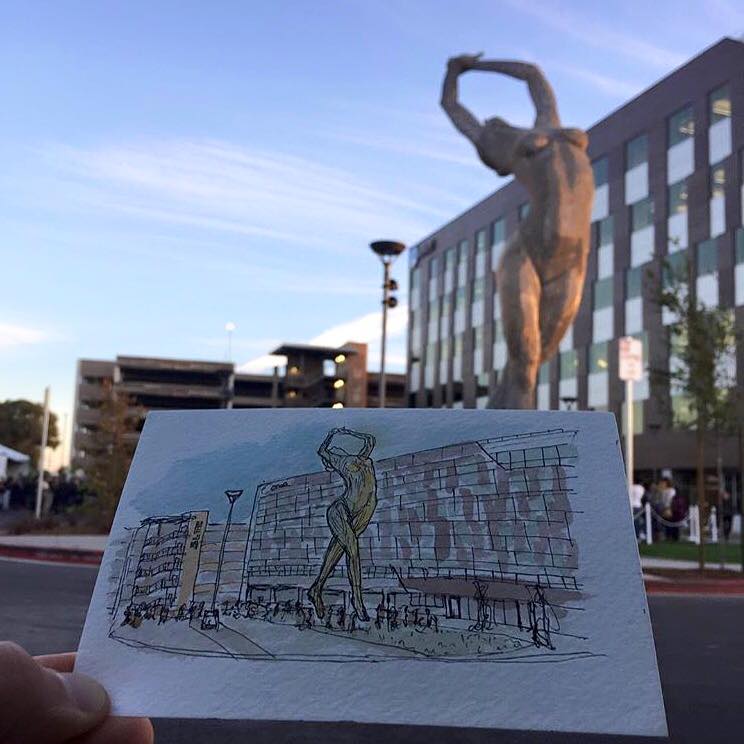 Photo: Chad Upham
Transformation is multidimensional; it's about building and moving at the same time. Its root components in Latin, -formare and -trans, mean "to form or shape" and "across," respectively. From the beginning, as evident in its slogan TRANSFORMATION, Westlake Urban stressed the role that public art—in this case Truth is Beauty—played in changing the face of San Leandro and marking the city's economic transformation from a struggling center of manufacturing to a center for technology, ready to take advantage of the Bay Area's booming tech industry. It goes deeper, of course, as the question "What would the world be like if women were safe?" encircles Truth is Beauty's feet in the Bay Area's ten most commonly spoken languages. These words express the artist's goal to "de-objectify women and inspire men and women to take action to end violence against women, thus allowing both women and men to live fully and thrive" (Cochrane's website). Truth is Beauty expresses the grace and growth that comes when women are able to dance and strive in a safe and equitable environment, and its inclusion at SLTC reminds us of the historic absence of women and people of color in the technology sector. We can do better, but how do we get there? We transform. We move and think in multiple dimensions, and we make places that are safe for all people to prosper.
What we at CCLR find particularly interesting about Truth is Beauty are her Burning Man roots. The sculpture made her debut at Burning Man in 2013, as the 55-foot tall nude woman in the desert, dancing above a temporary city of almost 70,000.
Burning Man is an annual gathering which began as a small bonfire on Baker Beach in San Francisco in 1986 (Burning Man website). Now based in Nevada's Black Rock Desert, Burning Man has become world-renowned as a radical experiment in building community, making art, and leaving no trace behind. In under a week, Burning Man builds a sustainable community out of the dust. It is, like SLTC, an experiment in reclaiming, connecting, and transforming, and it, like SLTC, demonstrates the power of land recycling to transform the way we live and interact with the earth.
From "Overview" by Benjamin Grant / Satellite image (c) DigitalGlobe
Land recycling is about adding value to our use of land. Transformative land recycling builds value across the full spectrum of cultural and living capital. Burning Man, while temporary, uses land to enhance all kinds of capital. SLTC, with its permanent structures, is increasing land values, building financial capital; emphasizing human and intellectual capital with its focus on inclusive tech companies; preserving ecological capital with its focus on sustainability; and investing in social and cultural capital with Truth is Beauty's timely message about freedom, safety, and inclusion for all.
SLTC and Truth is Beauty are testaments to the power of land recycling to generate returns far beyond financial investments. The model and method that Westlake Urban has used in creating the Tech Campus is a reminder that true transformation is possible when developers choose to move beyond easy, formulaic development patterns to build properties that are better suited to a changing world.