Westlake Urban Interview with Brian Wiedenmeier, Executive Director of the San Francisco Bicycle Coalition
January 18, 2017
Our work at Westlake Urban is focused on re-envisioning and redeveloping sites that have outlived their useful lives. Most of our projects are located in existing communities where we have owned properties for decades. These communities tend to be urbanizing places where the pace of change is rapidly increasing, rules are changing, and long-held beliefs about what constitutes great infill development are evolving. It can be a confusing time with little in the way of reliable "road maps" to guide us. Even the concept of "road" is dramatically changing as we move from an exclusively automobile-centric culture to a mobility culture. Particularly in urban areas, the principle of complete streets where pedestrians, bicyclists, and vehicles share the public rights of way is becoming a design imperative—and one Westlake Urban embraces.
As cities look to calm traffic, spare the air, and increase mobility, bicycling advocates are literally changing the way we all get around. Since 1971, the San Francisco Bicycle Coalition (SF Bicycle Coalition)—now 10,000 members strong—has been leading the way as one of the nation's most successful advocacy groups working to keep cyclists safe as it creates a more vibrant and livable environment for everyone, regardless of their preferred mode of transportation.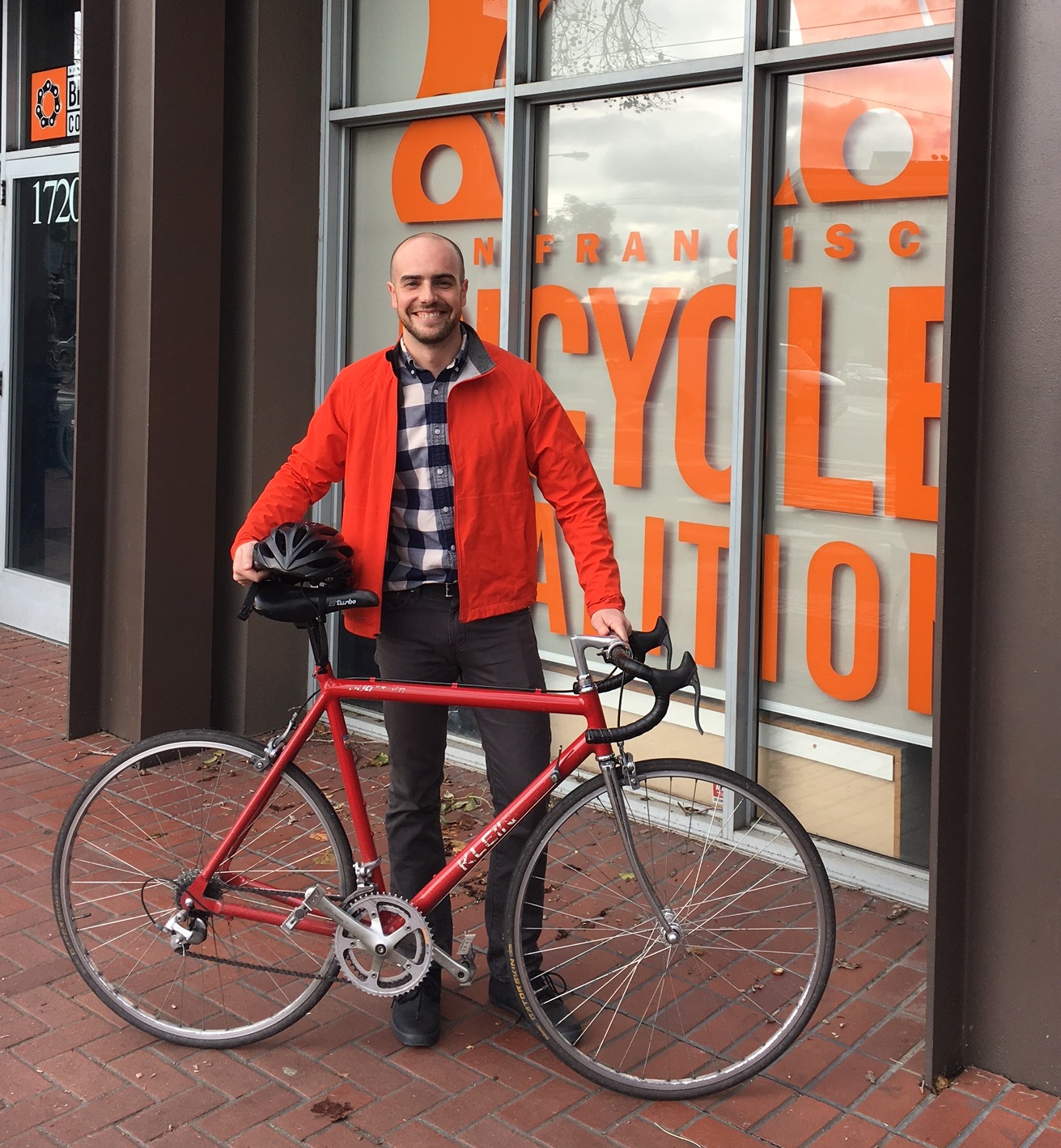 Brian Wiedenmeier, SF Bicycle Coalition
Through its work, SF Bicycle Coalition successfully lobbied for the building of crosstown bikeways to allow for easy commutes, leads campaigns to improve safety on targeted streets across the City, provides educational classes for riders of all ages, and takes a role in regional advocacy to create better cycling opportunities across the Bay Area.
Leading SF Bicycle Coalition since July 2016 is Executive Director Brian Wiedenmeier, a passionate advocate for cycling safety. A member of SF Bicycle Coalition since 2007, he started as the organization's development director in May 2014, and brings a decade of nonprofit experience to the job.
WESTLAKE URBAN: What were your biggest challenges and accomplishments in 2016?
BRIAN: Unfortunately, we saw another year of fatalities for people biking in this City. In particular, on June 22nd, two women biking in our City were hit and killed (in separate incidents) on the same night. In response, we organized our members to reach out to urge the City to do more to address unsafe conditions. As a result, Mayor Ed Lee issued his first executive directive on pedestrian and bicycle safety. The directive commits the City to a higher standard for the number of infrastructure projects they're going to complete in the coming year and the types of projects.
WESTLAKE URBAN: What will the City do?
BRIAN: We got a commitment that the City will build physically-protected and separated bike lanes wherever possible. Signage and paint are no long sufficient if we're going to increase the number of people biking on our streets and improve safety.  Within the next six months, parking-protected bike lanes are going to go in on 7th and 8th streets South of Market, in addition to Turk Street in the Tenderloin. We have also seen traffic calming measures go into Golden Gate Park on JFK Drive.
Protected Bike Lane: San Francisco Examiner
We also celebrated the connection of the eastern span bicycle and pedestrian path on the Bay Bridge into San Francisco on Yerba Buena Island, and we're working on the plan for a path on the western span.
In just a few weeks, a path for people biking and walking along Mansell Street through McLaren Park will be opening, connecting the Excelsior to Portola and Visitacion Valley neighborhoods through San Francisco's second-largest park, and it is fully separated from traffic.
We are organizing our members for planning and advocacy around two big projects along
our waterfront and South of Market. We're fighting for a physically-protected and separated two-way bike lane along the waterfront edge of the Embarcadero, and that's a project in tandem with the Port and the SFMTA, and then really looking south of market at Folsom Street and Howard Street and the totality of those two streets. Right now, there are buffered bike lanes on Folsom and Howard but it's a pilot project. The City did not go through a robust planning phase for that, so we're looking at what would a separated two-way bike lane on Folsom Street look like?
The Vista Point on Yerba Buena Island will be opening. We worked with the County Transportation Authority to build out a nice landing space, something to actually see and do there, without having to bike on dangerous streets to try to get to Treasure Island.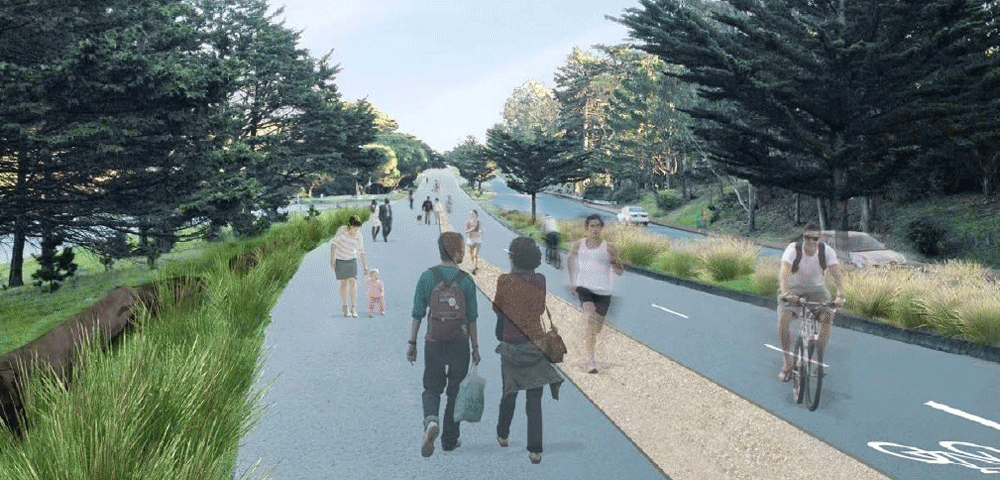 Mansell Street Rendering: SF Bicycle Coalition
I'm also really looking forward to working with the City and other advocacy groups like Walk SF, the Transit Riders, to look at Geneva Avenue in the Excelsior and see what the neighborhood wants and needs along that corridor and try to improve it for people walking and biking, for families in particular, folks that want to get to the Crocker-Amazon playground safely.
WESTLAKE URBAN: What do you see as the barriers to more people riding bikes?
BRIAN: The number one thing people always say is safety—or the perception of safety, right? It seems dangerous to ride a bike, or it is dangerous. We need the kind of bike lanes and bike facilities that make people, whether they're 8 or 80 years old, feel comfortable. The second thing I would say, and it's a distant second, but bike theft is a big deal and I've talked to so many people who given up on riding after they've had a bike stolen.
We're really working hard to make sure that we've put the most attention on prevention of bike theft and that means safe and secure bike parking.
WESTLAKE URBAN: In new buildings developers are starting to put in parking garages for bikes. Westlake Urban recently opened a multifamily rental property for moderate income households in San Mateo with a huge bike parking garage. It filled up right away.
BRIAN: We're really lucky in San Francisco to have some of the most progressive planning codes in the country when it comes to bike parking.  We fought really hard for those requirements, so when new developments come on line, whether they're residential or commercial, there are some really high standards for the number and type of bike parking spaces those developments have to have. Racks are one thing, but a lot of developments are also putting in fix-it stations or pump stands so that you don't need to take your bike up to your unit to work on it.
WESTLAKE URBAN: What is your broader vision for the bike coalition?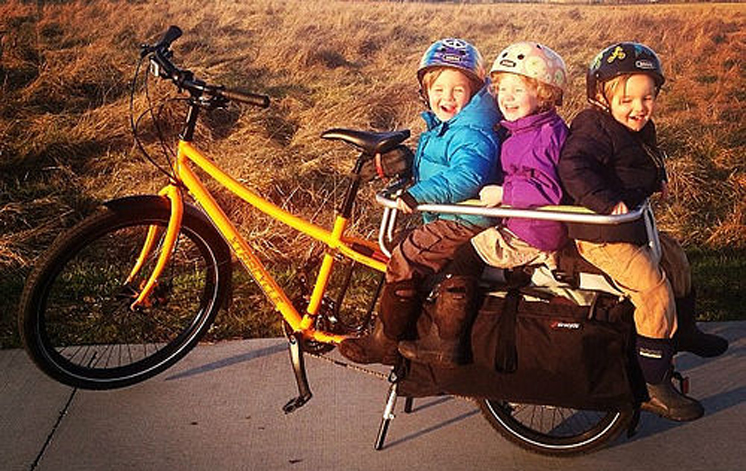 Photo: SF Bicycle Coalition
BRIAN: This work is about people fundamentally, so being intentional about our movement and our work as one that is really rooted in social justice and economic justice. If people don't feel safe or feel supported off of their bicycle, what difference does it make whether they feel safe on their bike? We also talk about the bike as a way to combat affordability and income inequality.
WESTLAKE URBAN: What are some of the lessons that you're learning as the executive
director?
BRIAN: I just am continually impressed and thrilled by the different types of people who use bikes for different things. We have over 10,000 members and it's a growing and diverse membership, including, for example, our Bike Commuter of the Year last year, who's a massage therapist and bikes with his massage table around to his clients, to the growing number of families and parents that are biking their young children to school.
WESTLAKE URBAN: How can people get involved with SF Bicycle Coalition?
BRIAN: Join the San Francisco Bicycle Coalition. If you're thinking about riding a bike and you have some doubts, or you don't know how to ride a bike, we offer free adult and youth bike education and safety classes.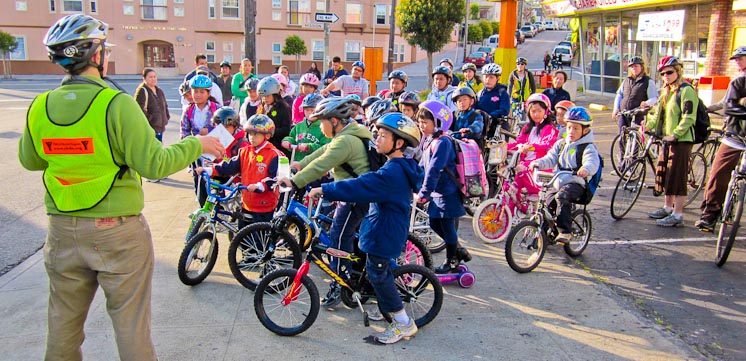 Photo: SF Bicycle Coalition