Why offices, not housing, may be the destination for new BART projects
October 30, 2015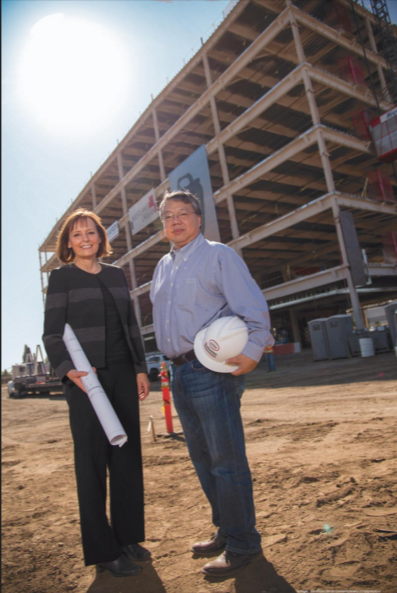 One of the biggest clues for how the Bay Area might grow in the future can be found in a surprising place: the small, suburban city of San Leandro.
Despite the region's insatiable need for more housing, developer Westlake Urban abandoned its initial idea to build apartments on private land just a few steps west of San Leandro BART. It's now building the San Leandro Tech Campus there, a half-million-square-foot office space where software company OSIsoft is bringing hundreds of jobs.
"It seems like a betrayal in some respects," said Gaye Quinn, managing director of Westlake Urban and former planning director of San Mateo, San Leandro and Emeryville. "But we're in this shift of thinking of how we build our cities. Maybe the building blocks need to be put up in a different way."
It's not a betrayal. After years of planning mostly residential and retail projects near BART stations, the agency is changing its tune. It is planning for more offices and denser mixed-use projects, in part because of research that shows people use public transit when their jobs — more so than their homes — are near it. That commercial development could then serve as a catalyst to drive residential and mixed-use development around it, the strategy goes. Millions of dollars from ground leases and new riders also helps the agency.
At San Leandro, workers will be able to walk from BART to the OSIsoft campus, passing a three-story-tall steel-mesh sculpture of a female silhouette called "Truth Is Beauty" on the way. Subsidized apartments are being built by nonprofit Bridge Housing on a parking lot just east of the station.
But the truth isn't beautiful for BART right now. A skyrocketing number of riders is buckling the aging system before repairs and upgrades are in place, with the Transbay tube clogged with people on trains from homes in the East Bay to jobs in San Francisco. That phenomenon is tightly linked to previous land use choices.
BART controls 200 acres of land at existing stations – usually surface parking lots that urban planners now see as a waste as the next generation of urban dwellers ditch their cars. It wants to use some of that land — and influence private land around it — to create jobs in neighborhoods where housing is planned but economic development has lagged. The rate of job growth in San Francisco has nearly doubled that of Contra Costa and Alameda counties' pace in the last 15 years. Downtown San Francisco stations are the busiest in the system by a wide margin as packed trains from the East Bay emerge from the Transbay tube every morning.
"We're really looking at opportunities where we can have other uses outside of housing," said BART property development head Sean Brooks, who started the job last month after steering economic development in Redwood City, which used its Caltrain station to help spur some of the most dramatic job growth in the region.
To be sure, BART isn't ditching housing development entirely, but the agency is shifting land-use priorities. On BART's 5.5-acre West Oakland site, the agency wants developer China Harbor Engineering to build offices and mixed-use development on a parking lot. BART will test developer interest later this year to build on a 1.3-acre parking lot next to the Lake Merritt station, which the City of Oakland zoned last year for 275-foot-tall towers that could hold housing or offices.
Another East Bay city, Fremont, is creating an innovation district on public and private land near its new Warm Springs BART station to capitalize on the growth of its largest private employer, Tesla, with a million square feet of office and industrial space. BART also wants commercial projects at Pleasant Hill, Pleasanton, Union City and downtown Oakland.
"Really, we only have one shot (at developing BART land). We have to do it right," Brooks said.
Awkward teenagers
BART started working with cities and counties 15 years ago on development projects near stations, so the agency is in its awkward teenage years of figuring out how to make it work.
Public and private land near BART stations, from Daly City to Pittsburg, is often disappointingly low-rise or barren. Only about 870 housing units (about a third of those below-market-rate) have been built on BART land during that time but about 1,300 units are in the pipeline. It's a far cry from transit-oriented success stories in Washington D.C., Vancouver or other areas.
But community resistance, the region's history of sprawl and economic cycles have led to false starts and foiled plans. That's wasted opportunities on some of the most valuable properties in the region. Home and office prices are at a premium nearest BART, according to the agency's studies.
"We have 44 BART stations, and each one is this precious jewel that we as a community have spent billions of dollars connecting with the rest of the Bay Area," said Nicholas Josefowitz, a member of the BART board of directors last year who was elected to represent San Francisco last year. "Over the past 40 years, too many of these cities have not invested sufficiently in these stations to create communities around it."
Josefowitz and Tom Radulovich, who was first elected to the BART board nearly two decades ago, say that the agency needs to work more forcefully with cities, which typically have final the land-use say. "No one at BART would say 'I'm opposed to dense development around BART.' The difference is how energetic BART should be as an advocate," Radulovich said.
The risk of the new strategy is that the same resistance and other obstacles that have stymied housing development on BART land will be equally problematic for public or private landowners nearby, who may or may not be interested in building housing in tandem with BART's office space.
But having a better-defined strategy may mark an improvement. The agency first adopted a transit-oriented development strategy in 2005, but hasn't updated it or pinpointed exactly how much office or residential space it wants and what deadlines it has. Like most public-private developments, community outreach and negotiations last at least two years before the entitlement process gets rolling — or halts. Transit-oriented projects at Oakland's Lake Merritt and San Francisco's Glen Park, for example, were yanked with little explanation years ago.
"If there's momentum at a local level, that's where we try to focus our energy. We don't control the (zoning or entitlement process) so we need to have a willing partner" in the cities, said Val Menotti, BART's chief planning and development officer.
The pressure is on to turn that around and find more willing partners.
A state-mandated land-use and transit plan to cut carbon emissions — known as Plan Bay Area, which mostly lacks enforcement — anticipates that about 65 percent of the Bay Area's employment growth will happen near public transit over the next 25 years. It set a mammoth goal of about 170,000 jobs and 140,000 housing units in the East Bay getting built near BART.
Playing the market
As daunting as the residential goals are in a region that has historically underproduced housing by a wide margin, the market is even more stacked against office development.
The question has become: Will office rents actually justify construction at sites where office buildings almost never spring up? That's in part why BART wants to use the public land it has to influence what goes there.
"It's difficult because the market is more there for housing, especially in the East Bay. Getting developers to realize it's a good time to build job centers is tough," said Rebecca Saltzman, a BART board director. "Some of it is up to the city. BART has influence on the land we own, so we're trying to make that happen as much as we can."
But the value of building offices next to public transit has made some developers bold. In Millbrae, just south of San Francisco, developer Republic Urban is nearing entitlements for a $200 million project on a BART parking lot that would bring 300 apartments, 43,000 square feet of retail, a 110-room hotel and 150,000 square feet of office space there. Michael Van Every of Republic Urban said the company would take on the risk of starting construction next year even if it hasn't bagged an office tenant. That's despite the fact that Millbrae has had little success drawing big employers in the past.
In Oakland, city officials hope this year's announcement that Uber would expand there will spark more office development not just downtown, but also in West Oakland and by Lake Merritt. With the Uber move, Oakland office rents swelled nearly high enough to financially justify new office construction near transit.
Other cities still have major challenges. The suburban town of Pittsburg rezoned its land near BART for more office and housing, but office development won't financially pencil there.
"If BART could make every site more commercial than residential, then they'd do it. But it's just waiting for the market to catch up," said Rachel Flynn, Oakland's planning director, who supports BART's efforts to add more office projects around its stations. "That's the vexing challenge."